Meet the Team
It takes more than one person to make a team!

Meet the special friends who are part of Team Ridley.
Chris McIvor
became part of Team Ridley in 2000 when she took home Ridley Kulicka (Katya). Katya weighed just 100 grams at birth (180-200 gms is a normal weight) but lived a long and healthy life with Chris, being joined later by her dam, Hadka. Both girls lived well into their teens, and after their passing Daisy (Ridley Vystava) joined Chris, followed soon by Eliska, an Erik grand-daughter from Jayne Rusby's Placido lines. Chris has been a mainstay of the team at country fairs - as a retired primary school teacher she's particularly good at interacting with the many small children who visit the stand!
Chris and Daisy in action at Burghley Country Show
Every sensible dog breeder comes to a point when they know in their heart of hearts that another litter is just not a good idea. It's not merely the physical toll that rearing puppies takes on our increasingly decrepit bodies, but also the thought that we could be responsible for those puppies for 10 to 15 years, and would we be in a position to take one back if necessary.
But there are a lot of memories, and not a little emotion, tied up in the litters we have bred, and it's difficult to think that within a few years our kennel name will become just a faint memory.
Over in Ireland
Janine and Patrick Dooner
have taken on the Ridley name which is now registered with the FCI, and they have bred two litters.
Here's Janine enjoying a break in her lovely garden in Co. Longford with four champions:
Int/Ir Ch Emily Day Break, Ir Ch RidleyAoibhinn, Ir Ch Placido Karisma and Ir Ch Wherrypoint Leopold.
(You will notice that Emily (aka the Polish :Princess) has her own throne, with her daughter seated a little lower!
Now, I'm thrilled to say that the first Ridley litter under 'new ownership' in the UK has just been born, as
Amanda Halling
's Ridley Ysadora whelped 2 lovely boys on September 10
th
2022.
Amanda shares my enthusiasm for the breed and I am confident that under her stewardship Ridley Cesky Terriers will thrive for the forseeable future.
Amanda and Silas at Bowood Country Fair
In a breed that is numerically as limited as the Cesky Terrier it's often necessary to work together with breeders in other countries. There has to be a lot of trust on both sides, travelling (or AI) is expensive and the results aren't always successful. Team Ridley has had a fruitful co-operation with
Kirsten Toftkjaer
in Denmark. Despite many attempts, only one litter had been born in Denmark in over ten years. Erik spent some months with Kirsten in the hopes that he would sire a litter, but Beauty Pibaro developed a pyometra and had to be spayed. Still his time in Denmark wasn't completely wasted, as Erik became a Danish champion, and returned to Kirsten later to finish his Danish Club champion title as well. In time an Erik grand-daughter (Kilbarchan's Aviaja) went to Kirsten. She returned to the UK a couple of years later to be mated back to Erik, and became the foundation of a successful line which has revived interest in the Cesky Terrier in Denmark.
Kirsten with Erik in Denmark
Erik sired some beautiful puppies, both for Team Ridley and for others, and has children around the world. Artificial Insemination (AI) is costly, and not always successful, One breeder who took a chance that it would work was
Laura Loikkanen
in Finland. She was rewarded with two puppies, Galbraith Caffery and Carevna.
Caffery with Laura at his first show as a baby puppy.
Another Erik litter, this time out of my Polish-bred Emily Day Break (
Mariola & Pola Dziemidowicz
), made new friends for Team Ridley. R. Urana went to
Gregg & Sandy Bridge-Chase
in the United States. She was shown only lightly, but her value was as a brood bitch, and she has created her own dynasty. Meanwhile, her sister, Ulita, travelled over to Sweden to join
Cissi Holmgren
.
Urana looks so like her dam, Emily!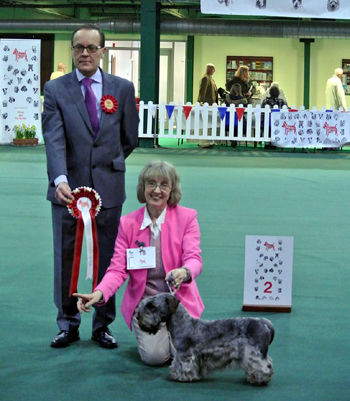 Often upholding the honour of Team Ridley at shows in the UK is
Judy Lewis
. Her first Cesky Terrier was R. Jakub, born in 1999, whilst she also had great success with R. Xanto.
Judy and Xanto, runner-up 'Open Show Dog of the Year;, National Terrier, 2018
Jitka with Karla (Kulicka Ginoch's Kvitko) - my favourite Cesky Terrier ever - who shared my bed so often when I visited Klanovice.
No review of Team Ridley would be complete without mention of the people who made it happen in the first place.
Mr Horak
, of course - the creator of this special breed, also his daughter, my friend and mentor,
Jitka Paulinova
, whose generosity to me, and to all who are interested in the Cesky Terrier knows no bounds, and
Harold and Liz Gay
, who first imported the breed to the UK.
Without you. none of this would have been possible and I simply say, thankyou!